North American Bowling News
---
Zack Hattori Wins $64,000 Scholarship in Teen Masters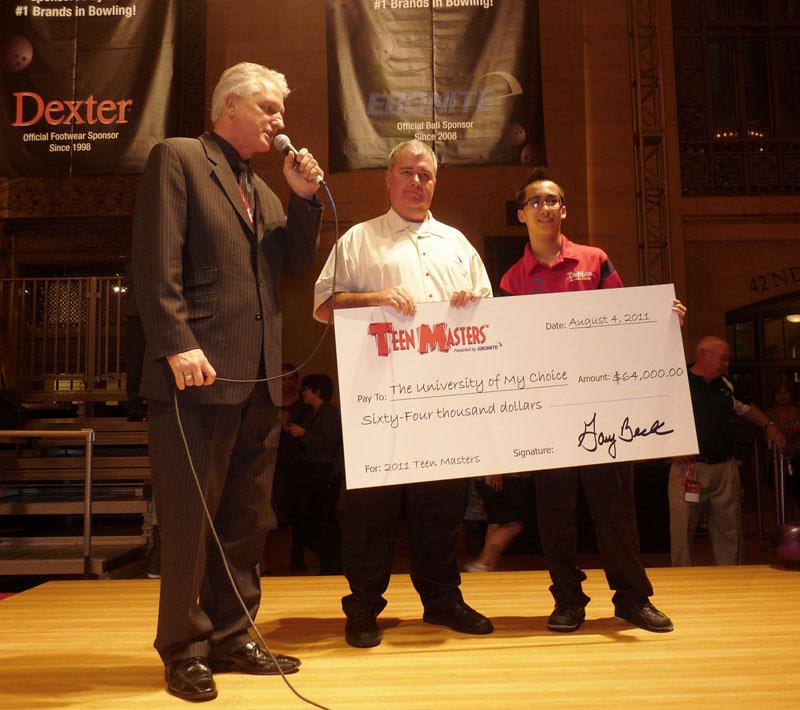 Teen Masters Champion, Zack Hattori, on right (Photo courtesy PBA LLC)
NEW YORK, N.Y. (Aug. 4, 2011) – With a double in the 10th frame, 18-year-old Zack Hattori of Las Vegas clinched the richest scholarship prize in bowling history to conclude the 14th annual Teen Masters bowling championships presented by Ebonite at Grand Central Terminal.
Hattori defeated 16-year-old Rachel Vaughn of Port St. Lucie, Florida, 190-184 and 207-178, to win the 'best of two game' championship match and lock up a four-year, $64,000 scholarship package.
"This is life-changing for me," Hattori, a 2011 high school graduate, said. "I'm excited and I'm shocked. I was struggling, thinking about college, but it's all coming together now. My whole goal was to bowl in college. Bowling has been my gateway to get there, and now it's more real than ever."
Hattori is mulling over three possible college options, but said he'd like to pursue a career in either medicine or engineering.
Hattori won the first game after trailing by 26 pins in the fifth frame. Hattori's double and a pair of missed 10 pin spare conversions proved costly to Vaughn. He threw three strikes in a row in the second game and got help when Vaughn twice failed to convert 3-10 "baby splits."
As runner-up, Vaughn won a $16,000 scholarship package.
Hattori advanced to the Grand Championship match after winning his second consecutive High School Boys championship, defeating 17-year-old Tommy Genova of Elmont, N.Y., 9-8, in a one-ball sudden death roll-off after they split their two-game match. Hattori won the first game, 220-190, but Genova won the second, 192-180, to force the decisive roll-off.
Vaughn also was a roll-off winner in the High School Girls finale, rolling a cross-over strike to eliminate Gabriella Mayfield of Lake Isabella, California, who had an eight-count on her roll-off shot. Vaughn jumped ahead in the match with a 206-199 victory, but Mayfield rallied to win Game 2, 186-171.
Genova and Mayfield each won $4,000 scholarships as high school runners-up.
In the "14 and Under" Girls championship match, 14-year-old Ashley Dunn of Palmdale, Calif., successfully defended her 2010 title, defeating 13-year-old Taryn Gray of Greenfield, Texas, 9-7, in a one-ball sudden death roll-off after they split their two-game match. Gray won the first game, 210-196, but Dunn saved herself with a 147-135 decision in the second game, forcing the roll-off.
"I didn't have a really good game and I wasn't making my spares, but it came down to the end and it's an amazing feeling," Dunn said of her second game. "I was just trying to keep my mind slow and stay calm."
In the "14 and Under" Boys Championship match, two-handed lefty, Wesley Low Jr., 14, of Palmdale, Calif., upset top qualifier Pablo Cerda, 14, of Sunrise, Fla., 224-169 and 170-154, in a two-game sweep.
"My secret was staying relaxed, picking up my spares and not getting angry on bad shots," Low said.
In addition to Ebonite, the Teen Masters was sponsored by Dexter Shoes and Kegel Training Center.
Go Back or Close Window

(To execute a 'BACK' command after clicking on a photo to enlarge, right-click on a white area on the screen that follows, and then select 'Back' from the menu that will appear)
If you like this article, give us a quick click on the 'Google +1', 'Facebook Like', and/or 'Twitter Follow' below