North American Bowling News
---
Women's U.S. Open Makes Rendezvous at Cowboys Stadium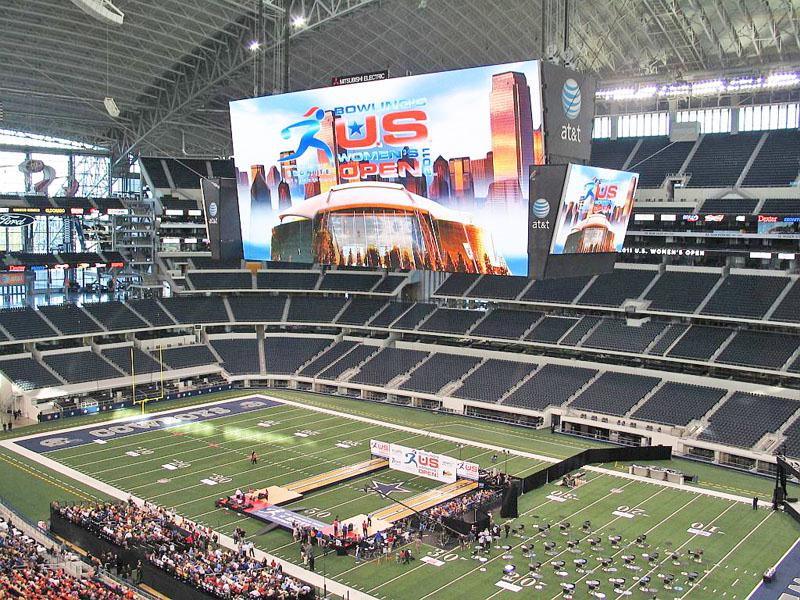 The awesome setting for the Women's U.S. Open at Cowboys Stadium (Photo courtesy Bowling Proprietors Association of America)
ARLINGTON, Texas -- Hall of Famer Leanne Barrette- Hulsenberg won the U.S. Women's Open bowling title on Thursday night, June 30th at Cowboys Stadium, beating 2003 and 2010 winner Kelly Kulick 218-183 in the championship match
The championship round was contested on lanes constructed on the 50-yard-line of the billion dollar football arena.
The cavernous facility was initially expected to break the all-time bowling attendance record of 7,212, and hopes were high that it would be a big boost for women's professional bowling.
Cowboys Stadium has hosted more than just football games since it opened in 2009.
A record crowd of 108,713 watched the NBA All-Star Game there in 2010, Manny Pacquiao won two fights in a ring at midfield and the Mexican national soccer team electrified the crowds during Gold Cup matches. The stadium has even accommodated monster trucks, motorcycles and bull riding.
"I don't think there is a better location in the world to showcase your premier event, your premier athletes and the great sport of bowling than Cowboys Stadium," said Steve Johnson, the executive director of the Bowling Proprietors Association of America. "It is probably the most recognized stadium. It represents greatness and the best of the best. We are extremely excited to bring this event to this stadium."
The five finalists bowled on lanes set up on each side of the blue star at the 50-yard line, with the Dallas Cowboys cheerleaders nearby. Almost 100 workers spent about 40 hours installing the four lanes, which were made up of 5,000 pounds of lumber and were designed for the event. A perfect game of 300 in the championship carried a $1 million bonus from the BPAA.
"It is going to be an event that people will talk about forever and hopefully a catalyst for professional bowling and its future," Johnson said. "When people are flipping through and watching this event on ESPN, they're going to see that star and know automatically that is Cowboys Stadium, so I figure we'll create a lot of interest and a lot of viewership."
Barrette-Hulsenberg, currently residing in Roseville, Calif., earned $50,000 for her 27th professional victory and first since the Three Rivers Open in Pittsburgh in September 2002.
"I'm actually sitting here thinking I can't believe this just happened to me," Hulsenberg said, "This win means so many different things to me. For my family, it's a very special day because I met my husband after I stopped bowling full time. On a bowling level, it's special because I've been with Ebonite for 20 years and they had so much to do with this tournament."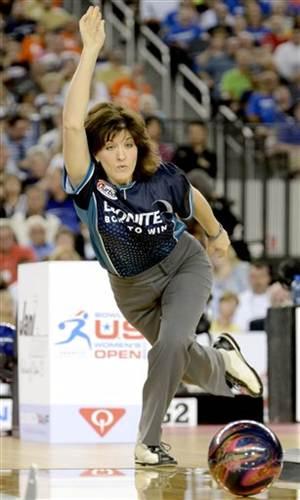 Leanne Barrette-Hulsenberg in action (Photo courtesy United States Bowling Congress)
She and her husband, PBA member and former Ebonite district manager Gary Hulsenberg, own The Strike Shop, a bowling pro shop at Fireside Lanes in Citrus Heights, CA, and Leanne has continued to make her mark in recent national bowling competition, having completed a USBC women's Open "grand slam" and placed 14th in last year's U.S. Women's Open.
Barrette won 26 PWBA titles over a seventeen year period (1987-2003) and might well have won many more if not for the demise of the PWBA in 2003. Only three other women in history won over $1 million on tour. She was PWBA Rookie of the Year in 1987, PWBA Player of the Year and BWAA Bowler of the Year in 1991, is a member of the USBC Hall of Fame, and she's appeared over 100 times in televised bowling competition. And while the folding of the PWBA ended her full-time professional bowling career, she hasn't given up the sport by any means.
Leanne bowls in Fireside Lanes' Steve Cook Classic league and recently rolled her highest sanctioned series ever, an 855 on games of 289-298-268. That's just three pins shy of the house record held jointly by Steve Cook, P.J. Haggerty, and Dave Seiler.
In the semifinal, Hulsenberg edged Lynda Barnes of Double Oak, 247-246.
Barnes beat Shannon O'Keefe of Arlington, TX, 268-166 in the opening match, and topped Liz Johnson of Cheektowaga, N.Y., 259-225 in the second.
Lynda looked on her way to another romp in the semifinal match, building a huge lead halfway through the match as Barrette- Hulsenberg had missed a 10-pin and wasn't even at a 200 pace.
But then, Hulsenberg locked in, striking on her last seven shots for a 247.
With Barnes losing her carry a bit, Barrette- Hulsenberg's string ultimately forced Barnes to have to strike out in the 10th frame to gain a 248-247 win.
Barnes struck solidly on the first shot and tripped the 4-pin for a double, but her last shot went through the face and left a 6-10 for a disappointing 1-pin loss.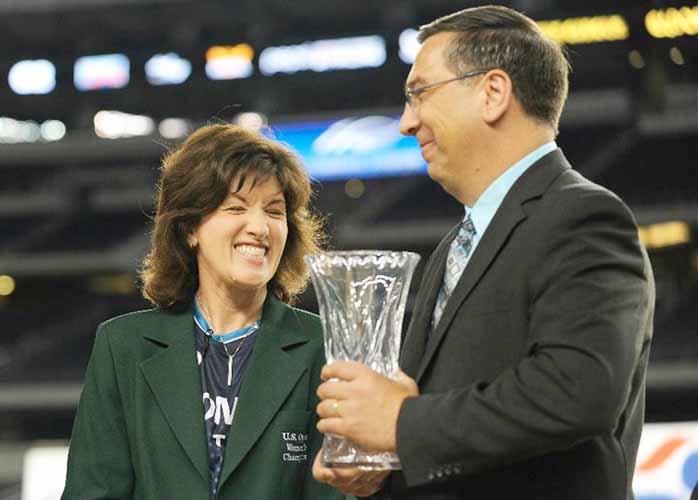 Leanne Barrette-Hulsenberg, receiving U.S. Open trophy from Ebonite CEO, Randy Schickert (Photo courtesy USBC)
The mood was intense when the final match started, but when both bowlers left 10-pins on their first shots, it was an early exit for the $1 million bonus for a perfect game. The change in lane conditions which led to Barnes' struggles in the 2nd half of the semi-final game would prove to be a factor for the top seed, Kulick (as well as Hulsenberg), given the lower scoring result in Leanne's 218-183 victory in the championship.
"Unfortunately, my feel just wasn't there tonight," said Kulick. "The humidity level was very high, and I never got a comfortable fit with the ball. There never was a happy medium. It wasn't that I was lost on the lanes. I went in and did the best I could."
Kulick, from Union, N.J., received $25,000 as runner-up.
Go Back or Close Window

(To execute a 'BACK' command after clicking on a photo to enlarge, right-click on a white area on the screen that follows, and then select 'Back' from the menu that will appear)
If you like this article, give us a quick click on the 'Google +1', 'Facebook Like', and/or 'Twitter Follow' below