North American Bowling News
---
The Rinaldi Name: A Bowling Landmark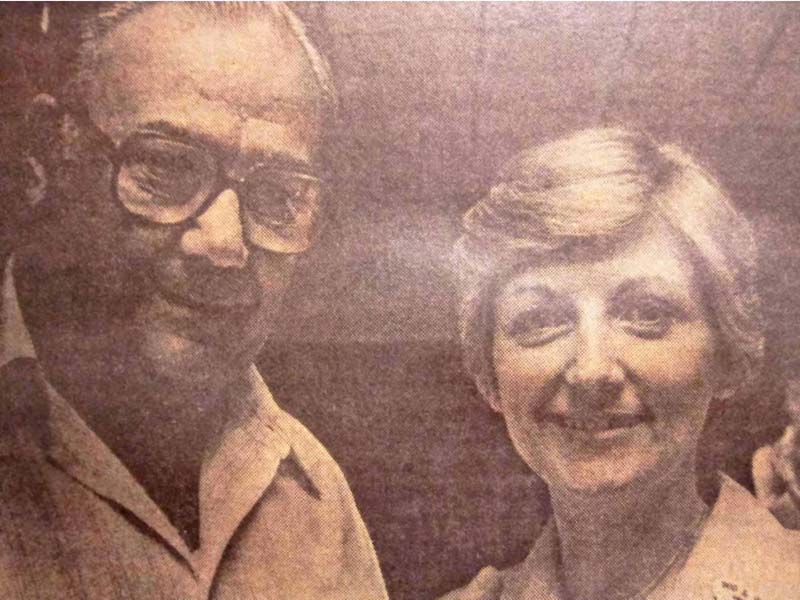 Father and Daugher, Nick and Pat Rinaldi
A Founding Father
Since the early 1950s, the name "Rinaldi" has been synonymous with bowling— especially duckpins. One of the true 'fathers' of bowling, Nick Rinaldi, was a trailblazer, despite the fact that there were already a good number of bowling centers available to the public. For kids who grew up during the 1960s and 1970s—the heyday of duckpin bowling—whenever parents took the family out to bowl duckpins, Rinaldi's was always associated with the fun, little pins. Maybe a better moniker for Nick Rinaldi was that he was a "Pioneer of Enhancement", as his establishments always seemed to be something more than just a 'cold', bowling alley.
Nick Rinaldi built his first bowling center, Wheaton Triangle Lanes, in 1951. Combining expansion with vision and foresight, Nick is responsible for providing fun and good times for countless multitudes, and in this way, "Rinaldi" has touched more lives in the sport of bowling than anyone. The land of duckpin bowling owes a lot to Nick, even if someone else bought his center(s) later—Rinaldi is the one who got the ball rolling. Had Wheaton Triangle never have been built, those fortunate enough to have been there at the time would never have seen Jeff Pyles' single season record of a 164 average, Dick Westlake's 266-611 set, Eddie Darling's 1710 qualifying round score in the DPBA, nor Steve Iavarone's first pro tour win.
After "Triangle" was erected, Rinaldi added a slew of other establishments to the bowling center population, including Queenstown Bowl (Hyattsville, MD), Takoma Park Bowl (Takoma Park, MD), Glenmont Lanes (Wheaton, MD), "Riverdale" (MD), Shirley Park (Arlington, VA), Riggs Bowl (Hyattsville, MD), Bethesda "40" (Bethesda, MD), Memorial Lanes (Norfolk, VA)), Princess Lanes (Atlanta, GA), Expressway Lanes (Miami, FL), Colonial Annapolis Lanes (Annapolis, MD), and Dolphin Lanes (Lauderdale Lakes, FL). In the 1970s and 1980s, Rinaldi's was the largest single proprietor owned business in the bowling industry.
Enter, Pat Rinaldi
During the time when Rinaldi's was making a splash in the 'bowling business' market, another Rinaldi was beginning to make waves on a more human level. Patricia Rinaldi, daughter of proprietor "Nick", was beginning to carve her own name along the avenue of duckpin bowling in her mid-teen years. Pat started bowling at the age of 7, and after she developed to the point where she could use one hand to deliver the ball instead of two, she steadily began to progress to where, in a short time, she was becoming a "phenom" in duckpin bowling.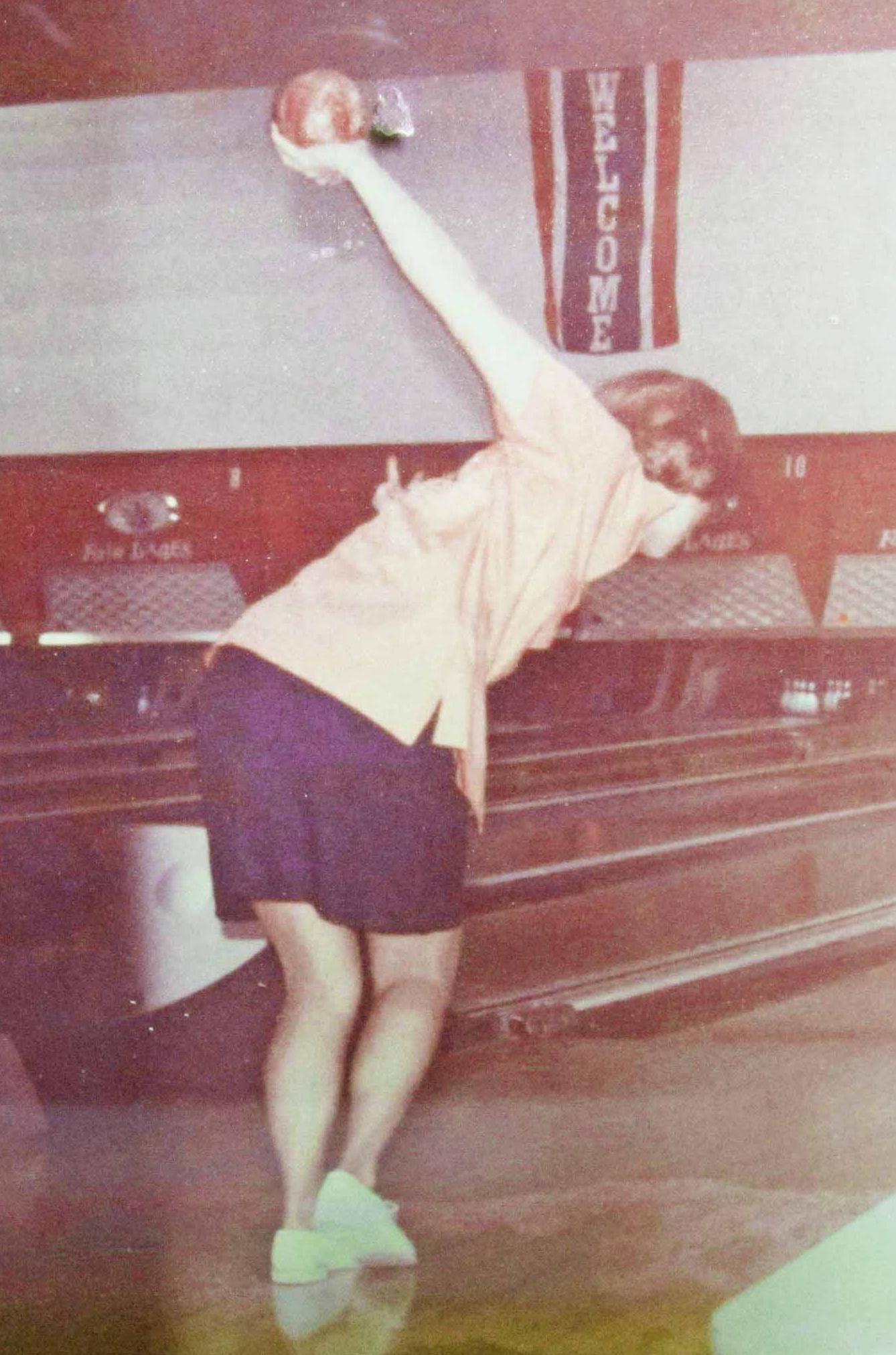 Rinaldi's high backswing
As she matured and prepared to leave the junior ranks, the young Rinaldi captured 3 youth titles between 1960 and 1961, including back-to-back titles in the American Junior Bowling Congress National Christmas tournament, and the 27th Annual Girls Chesapeake Classic. However, during that period in the 1960-1961 season, Pat also competed in the Lorraine Gulli Open, and won the heralded ladies event, during a time when veteran names like Elizabeth "Toots" Barger, Gertha Wilson, Gladys Kenney, and Edie Adams were winning the event. Two years later, Rinaldi won the tourney again. Also, during the '60-'61 season, she was a co-winner of the Chesapeake
Ladies Open at Fair Lanes Arbutus in Baltimore, and ended up winning that event on 2 other occasions ('63-64 and '71-72 seasons). Among her early triumphs, the one that really made people turn their heads was when Rinaldi won the Coca-Cola 30-Game Classic in 1962.
After attending Immaculata Junior College in Washington, DC for two years, Patricia took a break from duckpins and spent her junior and senior collegiate years at the 'St. Mary of the Woods' institution in Terre Haute, Indiana. Since there were no duckpins in Indiana, Pat's bowling career was temporarily 'on hold'. She subsequently received her Bachelor of Arts degree at "St. Mary's" to go along with her Associate of Arts from Immaculata.
After returning from college, Pat got back into bowling, and was soon on her game again. She ranked 5th in the country during the 1967-1968 season, and improved that mark by the 1971-1972 season, when she ascended to '2nd best in the nation' behind Jacque Dietsch of Silver Spring, MD. Rinaldi reached the pinnacle of the duckpin game in 1977, when she achieved her first Number One nationwide ranking—a status that she didn't relinquish for 6 straight years. It was during that stretch in time when she became the first woman to ever average 140 for a single season, and in the 1978-1979 season, she did it in both of her leagues.
Pat is a 2-time holder of the mixed doubles world record, with a 300 'season team average'. The first time was in the 1978-1979 season with Jeff Pyles at Fair Lanes Capital Plaza in the All-Star Mixed Doubles League, where she and Pyles combined for a team average of 300.128 for a total 216 games. That season was somewhat of a double- whammy for Rinaldi, in that not only was she a part of a world record team, but she also can be credited as the partner that year who inspired Pyles to become the first bowler to ever finish with a 160 average in a league. The other instance in which Rinaldi was a member of a 300 team average was during the 2001-2002 season at AMF Pikesville, where she topped her own mark with partner, Scott Wolgamuth, in which the two combined for a 300.626 season mark.
Rinaldi set numerous individual world records during her career, which were broken at later times. However, she still holds the 15-game record of 2,310, set back in 1979 in the "30 Game Classic" at Fair Lanes Prince Georges (Hyattsville).
Recently, in 2008-2009, Rinaldi made her bid at regaining the Number One Bowler in the Country honor, but was nosed out by Mindy Thomas by a slim 3/10ths of a percentage point.
Along with her 6 Number One national rankings, Rinaldi has doubled that mark for local kudos, having been the Number 1 bowler 12 times in the Greater Washington area. Recently, in the 2009-2010 season, Rinaldi ranked Number One in the GWDA, which was the first time in the history of local rankings that the Number One lady duckpinner ranked higher than the Number One male bowler.
As one would expect, Pat Rinaldi is a member of the NDBC and WNDA Halls of Fame. She was inducted into the NDBC group on the basis of "Superior Perform- ance" on May 27, 1989, and she went into the WNDA Hall on August 2, 1993 under the same criteria.
The 1981-1982 season could be considered her most successful years of competitive bowling on a head-to-head level, as she won 3 LPDT (the former ladies pro tour before the WNDA) events over the course of those 2 years, along with a 'Bowler of the Year' honor mixed in (1981). The 3 tour wins were at Queenstown, Greenway East, and Greenway Glen Burnie. Rinaldi added a 4th overall pro tour victory to her career wins with a triumph at White Oak Lanes in 2002 at the WNDA's 20th Reunion Tour.
One of Rinaldi's most impressive outings came in the Pop Whitten Pro Tour in 2005. Pat qualified in the open event, and the next day, successfully advanced through the divisional round to the stepladder finals. It was there that she faced one of the most uphill battles a bowler can comprehend. To win the title, Pat needed to go through names like Don Dove, Mark Nigh, Jeff Pyles, Keith Lipka, Mitch Lewinski, and Mark Berends. Incredibly, Rinaldi defeated Dove, Nigh, Pyles, and Lipka. In her match against Lewinski, she marked in the 10th to put Mitch on a double-header to win the match. With his back to the wall, Lewinski filled the bill with the unlikely finish, ending Rinaldi's run. But the memory of Pat's climb will forever live on, for all who were lucky enough to witness the spectacle.
Rinaldi not only has proven herself to be a tremendous talent over the years as a bowler, but also as an organizer. In 1981, she originated the prestigious Ladies All-Star Classic, which is still going strong to this day. She was elected as the first president of the revamped Women's National Duckpin Association (WNDA) in 1982. The WNDA recognized Pat for her contributions to the tour, awarding her the Theresa Belniak Service Commitment award, as well as presenting her with the Ann Schmitter award for sportsmanship on and off the lanes.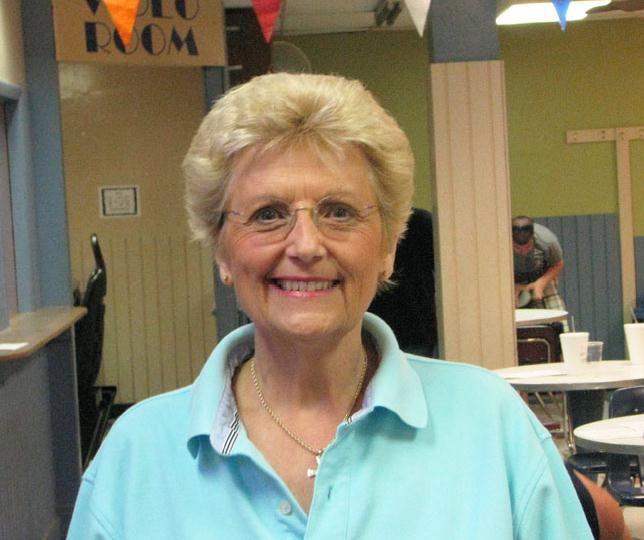 Pat Rinaldi, Bowler/Business Lady Extraordinaire
Pat Rinaldi, the Proprietor
After several years of illness following an automobile accident in 1993, Nick Rinaldi passed away in 1998. Pat took over 'running' Rinaldi's Riverdale tenpin bowling center, giving it a complete renovation. With the Implementation of state of the art machinery and lane surfacing and conditioning, as well as a general facelift for the center, Rinaldi's Riverdale has gone through a transformation that has drawn bowlers into the house at an alarming increase. The new changes more than tripled bowler membership from 500 to 1,600 players in the 32-lane establishment in just a short 4-year timeframe. Today, "Riverdale" is a flourishing bowling center with a legion of loyal supporters. Rinaldi proved that there's a lot of truth in the statement, "Treat your house right, and it'll treat you right".
As a bowling center proprietor, Rinaldi is a model businesswoman. From handling the center's "Promotion", employees' payroll, dealing with contractors, attorneys, and tax people, managing managers, and the daily interaction with customers as part of her 'Open Door Policy', Pat does it all.
While duckpin bowling has always been and still is her forte, Pat is no slouch on the lanes when it comes to tenpins. Using the same style as her duckpin delivery (although a shorter backswing), Rinaldi averages a 'not too shabby' 175, with a high game of 265.
Pat's high game on the duckpin platform is a lofty 256, with a 550 as her high 3-game series. Her best average in her career was 145, and she still carries a strong 138 in her leagues.
Having done it all with a bowling ball, Rinaldi still has goals: 1) To roll the highest game in duckpins, 2) To be ranked Number One in the country again, and 3) To win her own tournament, the Ladies All-Star Classic—the one jewel missing from her crown.
Go Back or Close Window

(To execute a 'BACK' command after clicking on a photo to enlarge, right-click on a white area on the screen that follows, and then select 'Back' from the menu that will appear)
If you like this article, give us a quick click on the 'Google +1', 'Facebook Like', and/or 'Twitter Follow' below