North American Bowling News
---
Pierce is Fierce at Town Hall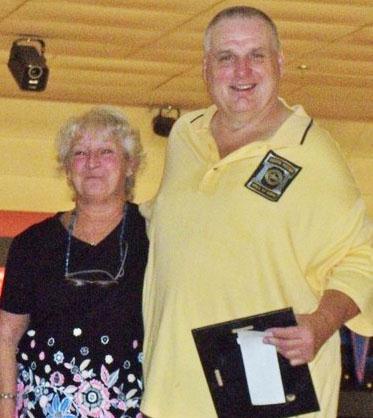 15-time DPBA Winner Peter Pierce (on right) with tour director, Sue Burucker (Photo courtesy Chuck Kramer, WNDA)
Adding to the amazement of the WNDA day at Town Hall Lanes were the circumstances surrounding Peter Pierce's triumphant weekend. Pierce has been relatively inactive on the tours as of late, although he did participate in the DPBA event 2 months prior at neighboring Meadowbrook Lanes in Rhode Island. Peter has been nursing 'off and on' arm ailments for the past couple of years, resulting in periodic numbness in the hand, which has put limits on his bowling, in general. As a matter of fact, Pierce only acquired his annual sanction card at the Meadowbrook tour stop, as he doesn't bowl any leagues at the present time.
On Town Hall weekend, Pierce hadn't planned on competing in the tour at all. While relaxing on his sofa at home on the Saturday of the preliminary round, a friend telephoned him and asked him, encouragingly, if he was going to bowl. Not having picked up a ball for the past couple of months, and actually with the tour slipping his mind a bit, Peter initially declined the invite, stating that he really wasn't prepared. After he hung up the phone with his friend, Pierce began to have second thoughts, and was starting to kick himself for not taking a shot at the game at which he's had so much success. A short time later, his friend called him back, and it didn't take much prodding to get Peter to change his mind, and so he got his pro tour shirt out of the closet and made the trip to the lanes. Pierce's arm was not posing a major problem, and he soon was on his game and ended up qualifying with a solid 1180 score (the cut being 1153).
Advancing to the Sunday semi-finals must have seemed like a homecoming for Pierce, as he's been there so many times in the past. The DPBA was employing the bracket format that was used back in May at Hagerstown. This time, 36 qualifiers advanced to 'Sunday'. The bowlers were divided into 6 divisions, and as was the case at Southside Bowl, the top 2 from each division were to advance to the 'Sweet 16', although this time, 4 additional wildcards would go to the bracket round. Pierce's opening match in divisional play was against Don Dove, and in a match of two of the game's most dominant players, past and present, Peter quickly summoned his "A" game, posting a 192 to Dove's 170+ effort. The 'near 200' effort was impressive, in spite of the fact that Pierce went by 2 single pin spares during the contest. But Pierce would suffer a lull in the next 3 games. His role of 'dominant force' metamorphosed into that of 'opportunist', as he would win 2 of the next 3 games with a high score being only in the 120s during that block. At 3-1, and his total pinfall being only moderate now, Pierce couldn't afford another low game with a loss. Peter rose to the occasion, however, posting a game in the 160s, and on the heels of nicking a 10-pin on the final ball of Game 5, he came off with a 1-pin victory to go 4-1, to win his division.
Of additional note was that Don Dove stayed sharp in his last 4 games of divisional play to ultimately go 3-2, and secured the necessary 2nd place finish to advance to the Round of 16.
The Friday preliminary round was highlighted by two exceptional efforts, both by bowlers who ultimately advanced to the bracket round of the event. Sal Nasisi rolled a stellar effort of 1311, which under normal circumstances would be enough to take the high qualifier honors. But Sal's supreme effort was overshadowed by Chuck Kramer's near world performance of 1398 for his 8-game block, which included a 543 for 3 games opener, followed by a 205 and 199 in Games 5 and 6. Kramer fell short by a mere 14 pins of Jeff Pyles' 8-game mark of 1412, although he did set a new Rhode Island state record for a duckpin 8-game set.
In the Sweet 16 round of the finals, Chuck Kramer def. Brian Vest, 174-157, Dave LaChance def. Cecil Saroopchand, 142-136, Pierce def. Sal Nasisi, 144-133, Scott Wolgamuth def. Dave Marsh, 149-120, Joey Oliver def. Paul Grohs,
Go Back or Close Window

(To execute a 'BACK' command after clicking on a photo to enlarge, right-click on a white area on the screen that follows, and then select 'Back' from the menu that will appear)
If you like this article, give us a quick click on the 'Google +1', 'Facebook Like', and/or 'Twitter Follow' below