North American Bowling News
---
Ron Mohr Wins Senior U.S. Open for First "Major"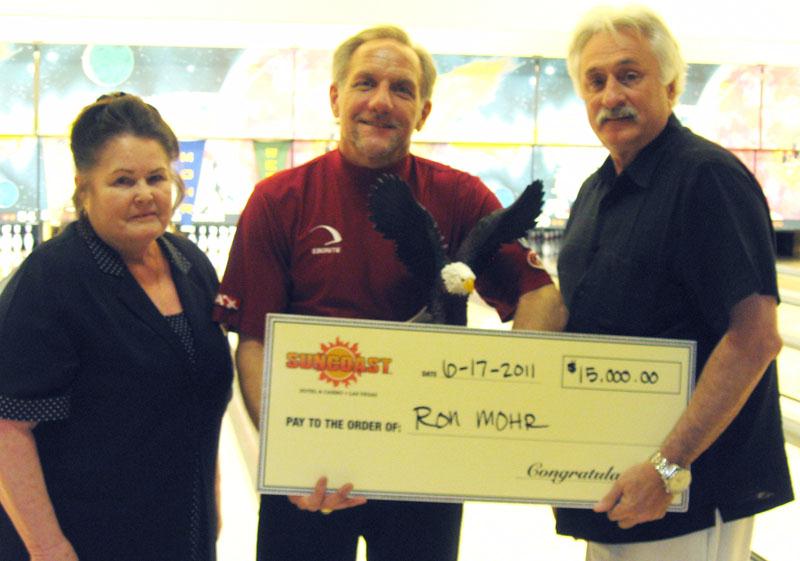 Photo courtesy PBA LLC
LAS VEGAS (June 17, 2011) - After finishing second in last year's Professional Bowlers Association Senior U.S. Open presented by Suncoast, 2009 Senior Player of the Year Ron Mohr of Eagle River, Alaska, returned to win the sport's most demanding Senior Tour tenpin event for his first major title Friday at the Suncoast Bowling Center.
Qualifying fourth for the stepladder finals, Mohr defeated PBA Hall of Famer and top qualifier Walter Ray Williams Jr., 246-189, in the champion- ship match to also win his fifth career Senior Tour title.
It was shortly after last year's Senior U.S. Open that Mohr had to miss the rest of the 2010 season to return to Alaska to care for his wife, Linda, who eventually passed away in January as the result of complications from surgery the previous year.
"She was my guardian angel and she was with me today," Mohr said. "Both the support back home and out here on tour has been unbelievable and that has been very important to my success this year."
In the opening stepladder match, Mohr defeated reigning Senior Player of the Year and PBA Hall of Famer Wayne Webb 265-258, thanks in large part to converting a crucial 4-10 split in the sixth frame. Webb, who finished fourth, was trying to become the tournament's first three-time winner after returning to Senior Tour competition as the result of missing the first four tournaments of the season recovering from knee surgery earlier this year.
In the semifinal match, Mohr defeated 2009 PBA Senior World Championship winner Harry Sullins of Chesterfield Township, Michigan, in a back-and-forth 220-211 match. Sullins, who won the Sun Bowl In The Villages earlier in the season was trying for his third Senior Tour title to go along with his five PBA Tour wins, and finished third.
"In the semifinal match I made too much of an adjustment and threw a couple bad shots," Mohr said. "I thought I was going to have to make more of a major move after the first match but the transition really wasn't that drastic for me so I just made a small, couple board adjustment, and got back on track."
The win was especially satisfying for Mohr who had to come from 67th place after the first round of qualifying on Monday.
"It's probably one of the biggest moves I've ever had to make in a tournament," Mohr said. "I was concerned at that point but not overly worried," Mohr said. "There was a lot of bowling left and I wasn't that far out of the first cut (to 56 players) so I just made the adjustments and took it a day at a time which you have to do in a marathon tournament like this."
The Senior U.S. Open format is one of the most demanding in the sport. To get to the championship round a bowler must get through four qualifying rounds and three match play rounds for a total of 51 games.
As the Senior Tour heads into the second half of the season Mohr now takes the lead in the Senior Player of the Year race over Williams. Mohr won the Senior Miller High Life Classic and also has second, third and fourth place finishes this season. He avenged his second place finish to Williams in the recent Senior Mark Roth Allentown Open where he lost in the title match 268-168.
"Walter's the best out here and everyone kind of expects him to be the guy," Mohr said. "It's nice to become the top senior player in the world by winning the toughest tournament we bowl but right now I'm just going to enjoy the moment."
Go Back or Close Window

(To execute a 'BACK' command after clicking on a photo to enlarge, right-click on a white area on the screen that follows, and then select 'Back' from the menu that will appear)
If you like this article, give us a quick click on the 'Google +1', 'Facebook Like', and/or 'Twitter Follow' below