North American Bowling News
---
900 Global Pulls Off Stunning Upset in Geico Team Shootout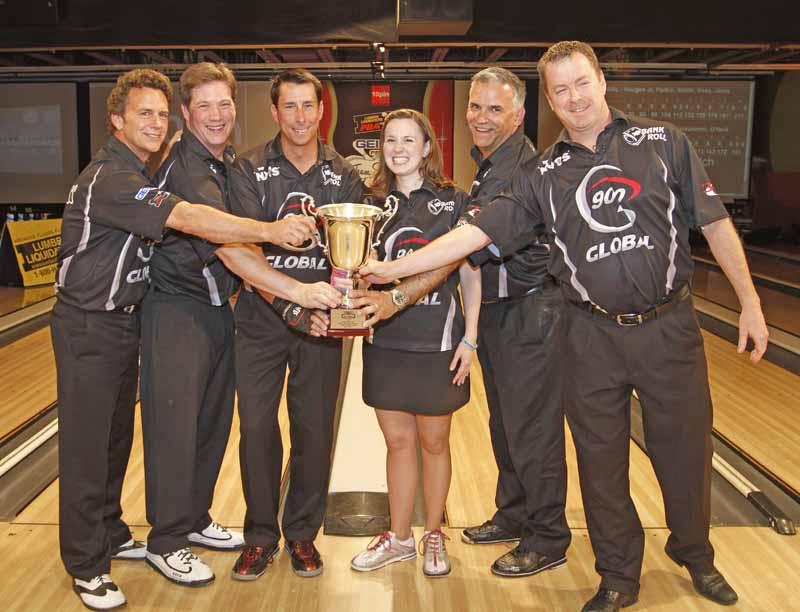 The team of '900 Global', left to right: Brian Voss, Robert Smith, Michael Haugen, Missy Parkin, Steve Jaros, and Dave Smart (Photo courtesy PBA LLC)
CHICAGO (July 3, 2011) - San Antonio, Texas-based 900 Global pulled off the biggest upset in the five-year history of the Lumber Liquidators PBA Tour's summer series special events, winning the Manufacturers Cup to conclude the GEICO PBA Team Shootout at 10pin bowling lounge.
The finals of the annual summer-season team competition aired on ESPN, capping a series of 15 half-hour programs.
Sparked by anchor bowler Steve Jaros of suburban Yorkville, Ill., No. 4-seeded 900 Global defeated Brunswick, 206-194; defending champion Storm Products, 258-255, and top-seeded Ebonite International, 215-191, for a three-match sweep of the Baker Team format stepladder finals.
"Our new name is Team Bottom Feeders," said 900 Global's Robert Smith. "That's what we looked like for the first 12 matches. We were our own rally-killers."
"We couldn't get anything going in the preliminary matches," Jaros said. "But we figured if we could manage our TV lane the right way and make good shots, we could get the job done and that's what happened. For whatever reason, the other teams kept putting us on the left lane and that's the lane we would have chosen if we had been able to pick the one we wanted."
In the Baker Team finals, each team bowled its entire game on one lane. Each player bowled two frames to complete a game. Because 900 Global was the lowest seeded team in the finals, its opponent had the right to select the lane it preferred—and all three opposing teams opted to bowl on the right lane.
In the opening stepladder match against Brunswick, 900 Global alternated strikes and spares until the seventh and eighth frames, when 2011 USBC Queens champion and two-time PBA Regional title winner Missy Parkin—the only woman in the event—and Smith finally posted back-to-back strikes. That double proved to be the difference.
In the semifinal match against the powerful Storm Products team, Storm's Pete Weber, Ryan Shafer, Wes Malott, Norm Duke and Jason Belmonte all struck to take a 30-pin lead after five frames, but 900 Global answered with a string of seven strikes, including a decisive double by Jaros on his first two shots in the 10th frame that decided the match.
With momentum on their side, Michael Haugen Jr., Parkin, Smith and PBA Hall of Famer Brian Voss struck to give 900 Global a 47-pin lead after four frames against Ebonite International. Ebonite put together a four-strike string of its own late in the game, but couldn't overcome three earlier open frames.
"Even though this wasn't as intense of a competition as regular Tour events, it was for bragging rights among the ball manufacturers," Haugen added. "And of course you always want to win. We don't have team competition on Tour, so that was fun, too. It's nice to share the win with teammates.
The GEICO PBA Team Shootout preliminary matches included singles, best ball doubles, alternate shot doubles, Baker team and "eliminator" formats where each team earned points to determine the stepladder finals positions.
Go Back or Close Window

(To execute a 'BACK' command after clicking on a photo to enlarge, right-click on a white area on the screen that follows, and then select 'Back' from the menu that will appear)
If you like this article, give us a quick click on the 'Google +1', 'Facebook Like', and/or 'Twitter Follow' below