North American Bowling News
---
Candlepinner Makes Way into Duckpin Tour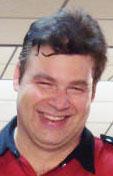 Bob Whitcomb (Photo courtesy ICBA)
The Duckpin Professional Bowlers Association received quite a shock on the weekend of August 3, 2009, when it received an entrant for its August tour event from the state of Massachusetts that wasn't a member of the duckpin pro tour. Bob Whitcomb of Halifax, MA joined the lofty duckpin crowd, sporting a reputation as a pro Candlepin bowler with 17 years of tournament experience. Whitcomb was eligible to participate in the event by entering under the one-time classification of 'adopt-a-bowler' -- a special stipulation of the duckpin pro tour, which allows 'walk ons' to compete with the pros on a trial basis.
Anyone who doubted Whitcomb's ability at the outset to compete with the pro duckpinners soon had to re-assess their initial impression, after witnessing the overall game of the big, strapping newcomer. At the conclusion of Bob's preliminary round, not only did he make a strong showing, but he posted a most impressive 1236 total for the 8-game block, comfortably making it to the next day's semi-final round, which would involve head-to-head match play competition. In the head-to-head round, Bob was equally impressive, posting a 4-1 match play record with 812 pinfall--a total that was 2nd only to the eventual tournament winner, Mark Callahan's 823 total. In Whitcomb's divisional play, his crucial moment of the day was featured in a match with 16-time tour winner, Don Dove, who was also in contention for the division at the time. In a close match, Bob came through when the chips were down, striking in the final frame to edge Dove, and thus put himself in the driver's seat for winning the division.
Although the small ball games of duckpins and candlepins are similar, there still were a few points that Whitcomb needed to get familiar with, which he did adjust to, masterfully. Whitcomb states that he likes the pace of the duckpin pro tour. Bob bowls a 2-frame pace in his Friday night major Candlepin league. He also bowls a mixed league in the fall on Wednesdays in which the players bowl 5 frames at a time.
Whitcomb humbly says that another thing he likes about the duckpin game is the ability to score a little higher than in the game of Candlepins. Just to give a comparison of the scoring between the 2 games...Whitcomb's high game in Candlepins is 208, and 497 for set, and his average is 128. In the duckpin pro event, he opened with 483 for his first 3 games, and followed that with a 189 in Game 4. Bob averaged 154 for his 14 games for the weekend, although it's understandable that top players do tend to excel under tournament conditions on a good day. What's truly amazing about Whitcomb's highly successful venture into the duckpin pro event is that he was using 'alley balls'. Before the competition began, he found a pair of 4 7/8", 3 lb. 8 oz. house balls that he liked and used throughout the weekend. Candlepin balls are 4 1/2" in diameter, and range in weight from 2 lb.s 4 oz. to 2 lbs. 7 oz., so there was a bit of a transition in bowling equipment for Bob, as he had to become accustomed to the heavier ball, and as he put it--he had to get accustomed to 'getting his arm all the way through' in his delivery.
For Whitcomb, shooting spares is naturally easier in duckpins due to the slightly larger ball. However, when bowling duckpins, Bob says that he does miss the aspect of the game where you have to use strategy in reading how to use your deadwood. In Candlepins, after the 1st or 2nd ball is rolled, if there is any deadwood lying on the lanes, it remains there until the frame is over without the pinsetter clearing stray pins from the pin deck.
Whitcomb rolled 24 games of practice at Ryan's Amusement Center in Massachusetts to prepare for the duckpin tour. His original intention was to bowl in the duckpin tour to make his arm stronger for the upcoming Candlepin season. As it turned out, Bob had a great day, and was close to winning the DPBA event. Whitcomb does have past experience with duckpin bowling, and genuinely loves the game. During his teen years, he used to work across the street from Roseland Bowl on Rt. 139 at the Taunton Center in Massachusetts and he'd get some practice in during his lunch hours, a lot of the time. At age 42, Whitcomb currently works in the biotech field.
In Candlepin bowling, the pins do in fact resemble candles, being cylindrical in shape, and comparable in height to a conventional tenpin. The balls used in Candlepin bowling are smaller in diameter than a duckpin ball. A duckpin ball is 4 7/8"-5" in diameter, while a Candlepin ball is only 4 1/2" in diameter. Candlepin balls are lighter than a regulation duckpin ball. A duckpin ball weighs anywhere from 3 lbs. 5 oz. to 3 lbs 12 oz. Candlepin balls range in weight from 2 lbs. 4 oz. to 2 lbs. 7 oz. Because the balls are so light, and the pins are so tall, Candlepin bowling is extremely difficult.
Go Back or Close Window

(To execute a 'BACK' command after clicking on a photo to enlarge, right-click on a white area on the screen that follows, and then select 'Back' from the menu that will appear)
If you like this article, give us a quick click on the 'Google +1', 'Facebook Like', and/or 'Twitter Follow' below