North American Bowling News
---
Dick Westlake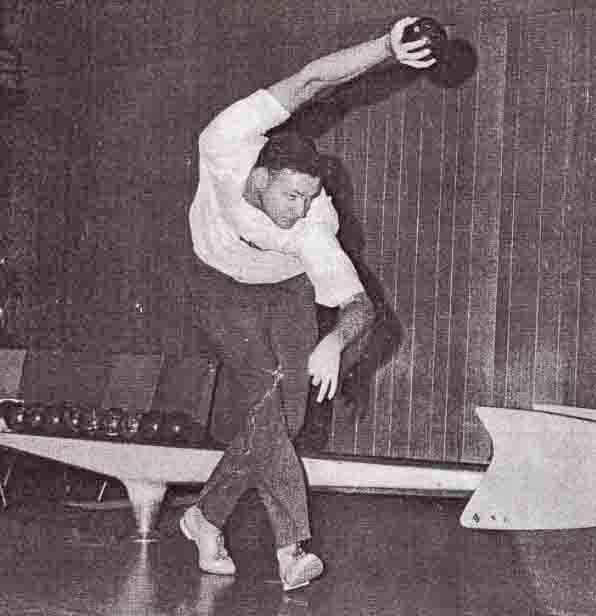 Photo courtesy of Duckpin Pro Tour
Unquestionably considered one of the all-time greats. Like the old great muscle cars, Dick Westlake's bowling career is another of the gems introduced in the decade of the 1960s. Westlake possessed one of the most devastating arm-swings in the history of bowling. Significant advances were made to aid in better scoring for duckpins, primarily in the fall of 1976, but prior to this, Westlake was actually rolling '500' sets back in the early to mid 1970s when few people were doing it. In the early 1980s, Dick rolled one of the best single game efforts in the history of duckpins at Wheaton Triangle Lanes. After posting 2 magnificent games of 164 and 181, he started the 3rd game with a stunning 8 strikes in a row. 2/3rds of the way to the only perfect game opportunity ever for duckpins, Westlake rolled his 9th frame. Another pocket hit, but this time he left the 5-7 split. As if the 8-bagger weren't enough to highlight an already monumental escalating effort for the night, Dick slid the split for the conversion. In the 10th frame, he broke 9, made it, and counted 9 on his final ball for a 266 game as part of a landmark 611 set.
During the 1970s, Westlake won a pro tour in Richmond, VA. But he was also renown at the time for winning a much publicized TV match against long-time, top-ranked bowler, Jimmy Dietsch, in which Dick, needing a mark to win the tournament, left the dreaded 7-8 split in the final frame. With defeat eminent, Dick beat the odds, hitting the 8 pin flush, and bounced it out of the pit to knock over the 7. After the unlikely spare conversion, Westlake then counted the necessary amount to win the match. Given the fact that the lanes were geared for TV for Washington DC's old Channel 7 studio telecast, they were less than optimum scoring, even for the tougher conditions of the early 1970s, which makes the split conversion even more phenomenal.
In the early to mid 1990s, I bowled rubberband duckpins with Westlake at Zips Lanes in Johnstown, PA. Although, the scoring in this variation of duckpins is higher than conventional duckpins, it was still amazing to watch as Dick averaged 181 for 12 games.
Shown in this photo from an early DPBA program book, you almost need to do a double-take when examining Westlake's arm-swing. This is not a retouched or edited photo--this is his actual arc with the ball. Back then, he should have been known as "The Scorpion".
Go Back or Close Window

(To execute a 'BACK' command after clicking on a photo to enlarge, right-click on a white area on the screen that follows, and then select 'Back' from the menu that will appear)
If you like this article, give us a quick click on the 'Google +1', 'Facebook Like', and/or 'Twitter Follow' below