North American Bowling News
---
Bowling Trade Show Comes to York, PA
Trade shows are a great point of exposure for bowling equipment manufacturers and vendors. They also present a great opportunity for bowling center representatives and the general public to talk directly with the manufacturers, whether it's to get pointed information about a particular new product, or even to question a manufacturer as to what was in their mind when they designed/developed a product that may have previously been a bust. These shows are a true paradise for the serious bowler.
On the weekend of August 7th and 8th, working in conjunction with Pennsylvania-based, Bowler's Supply, Inc., one of the country's largest bowling wholesale distributors, a host of bowling vendors and manufacturers were in attendance to show off their newest products to the bowling public. The show was held at the massive Toyota Center at the York Fairgrounds. Anything from bowling balls, shoes, bags, and apparel were handsomely displayed, promoting the newest innovations. Bowling center machinery and parts replacements were also available. There were even novelty items, such as award balls for '300' games and the prestigious '800' series. Even a vendor from Oreck vacuums was there.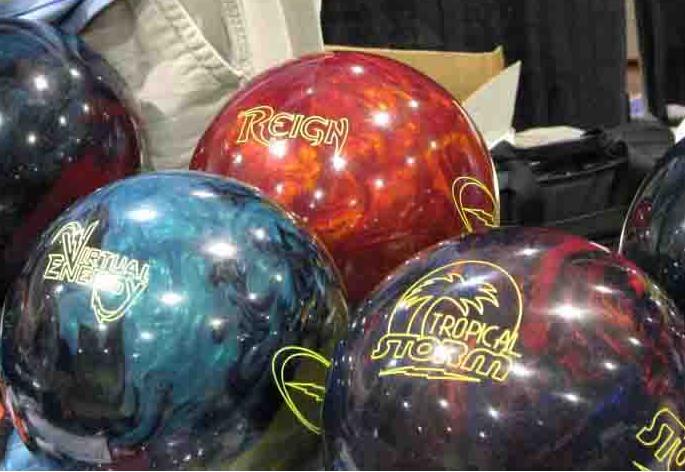 Storm Bowling's REIGN Ball
Representatives from the major bowling ball manufacturers showcased an impressive line of state-of-the-art products, including new innovations, accompanied by attractive brochures/fliers outlining the rich, scientific features of each product. Among the newest introductions were Storm Bowling's "Reign" ball, designed to excel on lane conditions with a medium to heavy finish, and also Hammer's "Jigsaw" ball, made for medium-heavy to heavy oil lane patterns.
On the subject of oil patterns and alley conditioning, lane maintenance products were available from the Kegel Corporation. Among their lane conditioning aids were the battery-operated "Crossfire" lane machine and also the "Kustodian Walker". The company, Innovative Bowling Products, had on display the "Revivor" oil extraction unit.
On a more personal merchandise level for the individual bowler, Gemini and Hilton, two of the premiere bowling apparel outfits, displayed their goods with some of the sharpest looking and comfort fitting bowling shirts on the market. York, Pennsylvania's "Athletic Lettering, Inc." teamed up with Hilton for the trade show, making available professional customization for bowling shirts and jackets.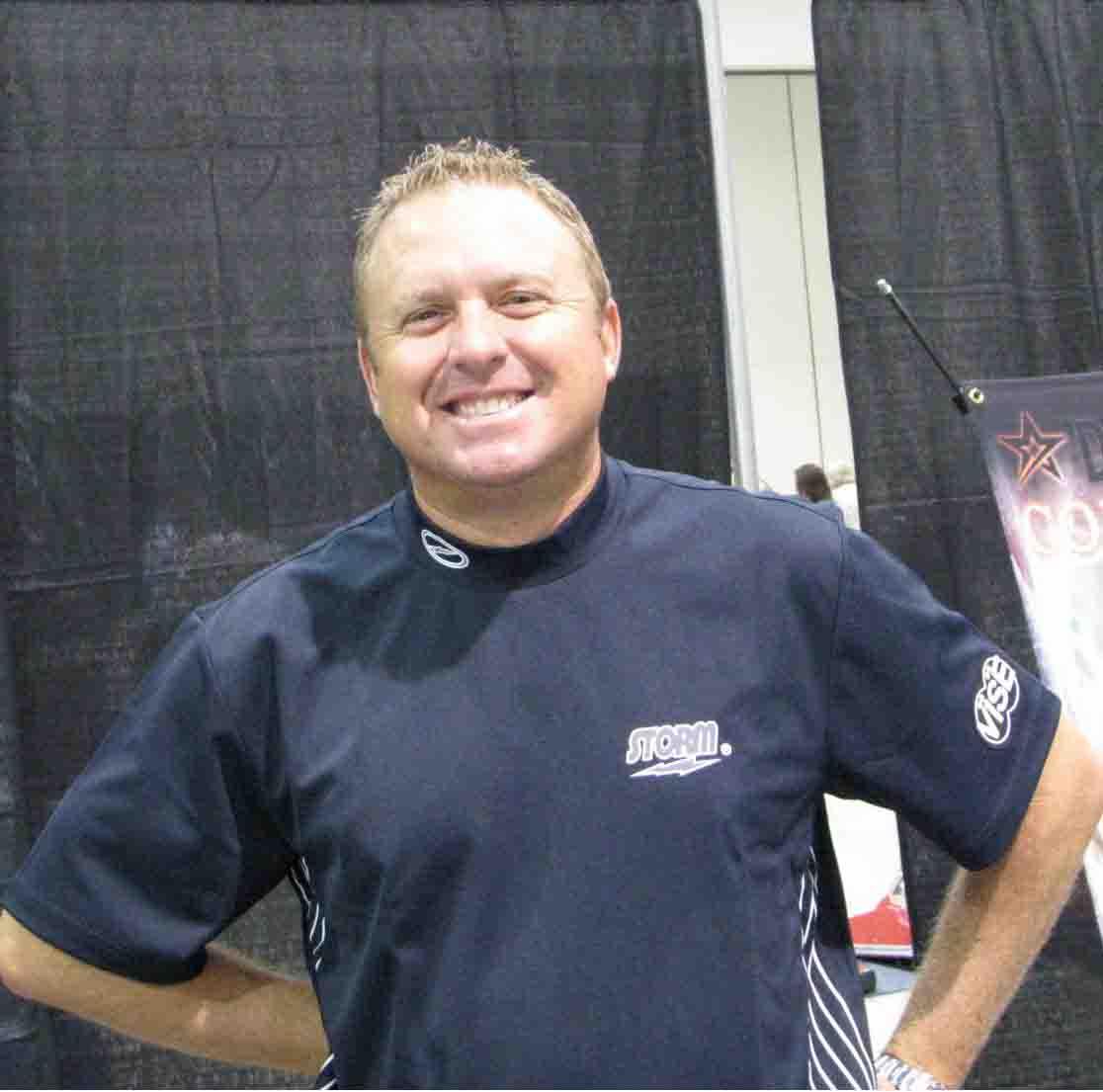 ESPN's Randy Pedersen
An added bonus for visitors to the trade show in York on Saturday was the presence of celebrities of the bowling game, armed with facts to promote some of the game's biggest manufacturers. These former accomplished professional bowlers are currently employees/spokesmen of selected bowling companies. ESPN's knowledgeable and personable announcer for bowling, Randy Pedersen, was on hand as a representative of Storm Bowling. Pedersen is in his 9th year as employee for Storm. It was quite a thrill for the average spectator to talk with Randy, who is quite approachable and easy to converse with. Pedersen won 13 PBA national titles during his career.
Also making an appearance at the trade show was another recognizable pro tour figure--superstar, David Ozio. Ozio, who is an 11-time PBA title holder, is now a member of the Etonic shoe company, and has been with them for the past 2 years. David was in the recovery process from hand surgery, but still commanded a lot of respect, as he's extremely well-versed in the bowling shoe technology for Etonic. Both Ozio and Pedersen are on the PBA's Top 50 Greatest Bowlers List.
The Brunswick corporation had a line of unique items, including colored bowling pins, an assortment of novelty balls, bowling shoes, and a formidable assortment of performance bowling balls. Just in time for football season, Brunswick is sporting a line of NFL balls for any of the 32 teams in pro football. With accessories to match, including complementing bowling bags and towels, players can now promote their favorite teams. Brunswick's highly scientific balls include the Siege, the Python, the Avalanche, and the Wild Thing.
One interesting facet of the bowling ball displays was the variety of different cores of each bowling ball. Shapes ranged from that of what looked like a miniature boxing glove, to a child's spinning top, to a light bulb, just to name a few. Each core in conjunction with the position of the finger hole drilling makes the ball react differently on various lane conditions.
Storm Bowling showed off an impressive array of bowling balls, such as the Virtual Energy and Virtual Gravity balls, but there seems to be quite a following for the "Fast", the "Furious", and the "Natural" bowling balls.
AZO Bowling had some very intriguing merchandise, as they advertise their line with the motto "Better Bowling Through Science". Their featured balls, the "Area" and the "Strike" are fine examples of the technology behind the product. Also, in their line, they've considered everything, as they offer 2 and 3 ball tote bags as well as roller bags.
Roto Grip and Crown weren't about to be left out, Crown is high on their medium-to-heavy oil "Rogue Cell" ball, while Roto Grip's "Mars" ball is just one of several 'Planet' named balls, this one more favorable in medium to light oil conditions.
Ebonite, one of the giants of the ball manufacturing industry had several tables set up for their extensive line of bowling balls. The "Magic Touch" and the "Evolve" are big sellers. Under Ebonite's Hammer series was their "Black Widow" assortment of balls. Their Columbia 300 series featured the popular "Bedlam" and "Cool Noize" medium oil offerings. Track Bowling sported their prize efforts--the "930T" for heavy to medium heavy oil, the "505C" for medium oil, and the "715A" for medium to medium-heavy oil conditions.
With so much technology going on in the sport of bowling these days, there's a lot to learn when dissecting the game of tenpins, and you really need to diligently keep up with the latest products. All in all, the York trade show filled the bill.
Dexter Introduces Breakthrough Shoe
The Dexter corporation had on display an impressive array of bowling shoes, but their newest innovation is in their SST 8. The shoe is similar to previous versions, with replaceable heels and soles, but the noteworthy point here is that the shoe is no longer separately available to right or left-handed bowlers. Both shoes now have replaceable rubber traction soles/heels as well as removable slide soles/heels, making it no longer necessary for a person to have to order a right or left-handed version of the bowling shoe.
Go Back or Close Window

(To execute a 'BACK' command after clicking on a photo to enlarge, right-click on a white area on the screen that follows, and then select 'Back' from the menu that will appear)
If you like this article, give us a quick click on the 'Google +1', 'Facebook Like', and/or 'Twitter Follow' below