North American Bowling News
---
Duckpin R & R from the Editor -- Rarities and Reminiscences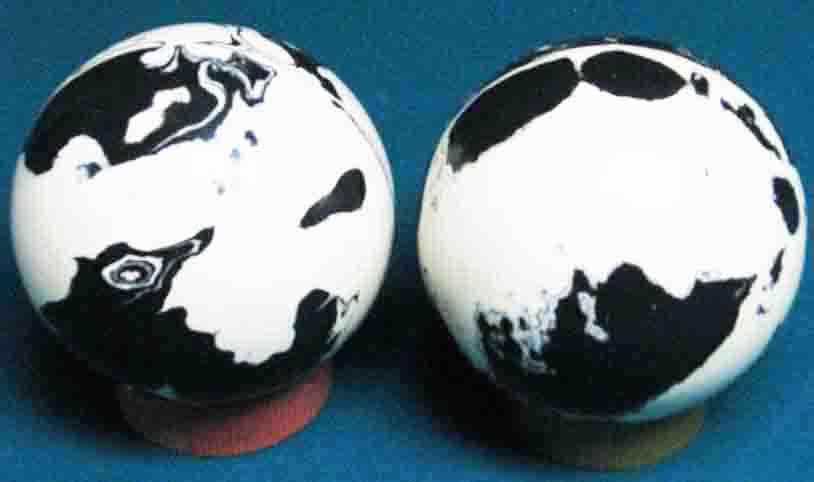 A unique set of Ebonite Prolines
We've all seen unusual occurrences in bowling. Just as everyone has a different style of delivering a bowling ball, each bowler, at one time or another, has witnessed something truly weird. This editor has spent a lot of years in the duckpin game, and just to share and preserve a few memories, here are a few tidbits:
I witnessed a perfect all-spare 190 game (10 single pin conversions), rolled by Jimmy Darling at White Oak Lanes back in 2007.
Back in around 2004, I saw Ray Weaver convert the 7-10 split for a spare during league play by actually sliding the 7 into the 10 (witnessed also by Jeff Pyles at AMF College Park), without use of a wall or fly-back.
In 1989, I bowled against a bowler by the name of Jimmy Kinsey in the Tuesday Night Sociables League at AMF College Park, in which he rolled 11 consecutive strikes, over the course of 2 games­­ended Game 2 with 5 strikes, and started Game 3 with a 6­bagger, en route to a 550 set­­nearly an 'Andy Varipapa 300'.
But probably the most bizarre occurrence I've ever encountered happened in 2005, when Reginald Johnson in the Maryland Suburban Traveling League took only the 1-7-10 out of the rack on his first ball. The weirdness of the spare break caused a lot of laughter from the amazed onlookers by the time he was ready to shoot the spare. Reginald was famous for having unusual things happen to him­­a couple of years earlier, I saw him experience the misfortune of taking out the 1­5 clean on a 5­bagger.
With all that in mind, the photo above shows a physical rarity--a one-of-a-kind set of Ebonite Pro-Lines with a truly unique design for this make of bowling ball. Historically, Ebonite's highly 'sought-after' Pro-Line duckpin ball is predominantly green, blue, or black, with a traditional, thin swirl pattern. Ebonite International states that they discontinued manufacture of the 'Pro-Line' prior to 1968. With this particular pair of balls, each appear to have two distinct halves, as shown in the photo here. They're essentially brand new, no nicks, and the Ebonite stamp still has the engraved imprint freshly on it. These balls were weighed on a postal scale, and both weigh in at '3-12' on the button, the maximum weight for a duckpin ball, which verifies the fact that they've never been refinished. They're both 5" in diameter. A real collector's item--in 30+ years of bowling, I haven't seen a pair of Pro-Lines with this unique design. The balls were unearthed at a small bowling center in Virginia. Keep your eyes open, you may end up seeing them on Ebay at some point.
Go Back or Close Window

(To execute a 'BACK' command after clicking on a photo to enlarge, right-click on a white area on the screen that follows, and then select 'Back' from the menu that will appear)
If you like this article, give us a quick click on the 'Google +1', 'Facebook Like', and/or 'Twitter Follow' below