North American Bowling News
---
Pyles Not Ready to Pass the Torch, Notches Tour Win #18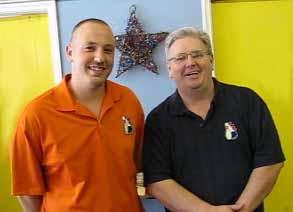 Runner-up Eddie Dix (left), with Glen Burnie Tour Champ, Jeff Pyles (right)
How long is an athlete really in his prime? Maybe 7 years, 10 or 12 at the outside. In the case of Jeff Pyles, try 30+ years. The man who's claimed a plethora of world records in the sport of duckpins won his 18th pro tour on July 12, 2009 at Glen Burnie Bowl in dynamic fashion.
Pyles ascended to the top seed position after an impressive performance within a brutal division in the head-to-head match play semi-finals. Jeff went 4-1 with a 795 pinfall total--this pinfall was the highest among all the finalists, and thus earned Pyles the top rung on the stepladder.
The stepladder finals included an all-star cast, the first match pitting 4th seed, Hagerstown, Maryland's Bernie Hipkins against the wildcard, Mike Steinert, from McSherrystown, PA. Steinert came out the gate fast and kept up the pace, ending with a 178-117 victory over Hipkins. Mike then went up against the 3rd seed, the ever-dangerous Billy Fritts of Baltimore, MD. Again, Steinert took nothing for granted, maintaining his sharpness en route to a 152-126 win.
Next in line for Steinert was one of the fastest rising superstars in the duckpin game today, Baltimore's Eddie Dix. Dix has taken the duckpin world by storm in 2009, winning a stop on the competitive Pop Whitten pro tour and averaging a solid 146 in league play. Eddie, who was 5-0 in head-to-head competition earlier in the day with 785 pinfall, carried his level of excellence into the match with Steinert, and claimed a 148-131 victory on his way to the highly anticipated title match with top seeded Pyles.
The championship match lived up to its billing. With the 2 combatants at each one's peak, it was hard to see either man taking a back seat. Both Eddie and Jeff hoarded marks throughout the course of the match. But the seasoned veteran Pyles was able to gain an edge during the course of the match. This one slight advantage proved to be the difference in the battle, as both bowlers were practically error-free in the contest. Pyles came out a winner in an exciting 171-155 final. For Pyles, his 18th pro tour win is another extremely impressive credential on his career resume. For Dix, the thrill of the chase will undoubtedly prove to be a positive experience in his bright future ahead.
Go Back or Close Window

(To execute a 'BACK' command after clicking on a photo to enlarge, right-click on a white area on the screen that follows, and then select 'Back' from the menu that will appear)
If you like this article, give us a quick click on the 'Google +1', 'Facebook Like', and/or 'Twitter Follow' below