North American Bowling News
---
Callahan Edges Deantoniis for Coveted 1st DPBA Star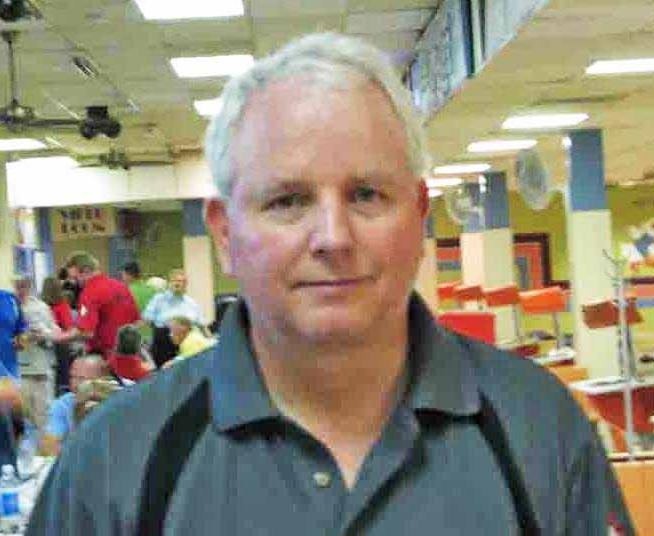 Town Hall Lanes champ for 2009, Mark Callahan
Rhode Island's Town Hall Lanes crowned a new champion in 2009 as Stewartstown, Pennsylvanian Mark Callahan captured his first Duckpin Pro Bowlers Association 'star' in a thrilling final game against Baltimore, Maryland's John Deantoniis. A 3-time winner on the Pop Whitten pro tour circuit, the 51-year old law enforcement officer Callahan made his DPBA dream a reality with a gritty performance from the top seed position in the stepladder finals.
Callahan's Saturday preliminary round included a rousing 1291 8-game score, which was 5th in a field of 117 bowlers to make it to the Sunday semi-finals with 29 other qualifiers. In the semis, involving head-to-head match play, Mark went 4 ½ - ½, tieing Jeff Pyles with the same record in his division, but Mark's superior 823 pinfall total for the 5-game block game him the nod over Jeff to win the division, and this 823 effort bested the rest of the field, landing Mark the top seeding for the stepladder finals. Pyles ended up as the wildcard in a rare instance of a bowler becoming the wildcard without losing a game in the head-to-head semi-finals.
The stepladder action got underway, with Pyles to face 5th seeded Marc Goneau, one of the formidable Canadian bowlers who entered the DPBA event, taking a break from his fivepin bowling agenda to compete with the duckpinners. For Goneau it was a baptism of fire, as he was facing the most experienced active DPBA bowler with the most wins in pro tour history. Pyles got the edge as the match progressed and posted a solid effort in a 149-124 victory.
Next in line for Pyles was the explosive John Deantoniis. John always seems to excel under tournament conditions and this time was no different. With Pyles running into a few obstacles in the early to middle part of the game, Deantoniis took full advantage with a steady stream of offense and came away with a 153-129 victory.
Deantoniis, now primed and ready, had an equally difficult challenge ahead as he faced Rhode Island's hardened veteran, Dennis Cabral. John had the unenviable task of facing the 2 most recent tour winners in back-to-back matches--Pyles had won the previous tour event in July, and Cabral was a victor back in June. However, Deantoniis seemed to be a 'man on a mission', and continued his steady onslaught. Dennis got off to a slow start and couldn't get on track in the game. John finished the match with another masterful performance, 154-110.
Deantoniis looked awfully good at this stage, but the next opponent was going to be a total mystery for John. Waiting in the wings was the 2nd seed, Bob Whitcomb. Whitcomb had created quite a stir on the weekend as this was his very first duckpin pro tour event. Bob is a top-ranked candlepin bowler in the Massachusetts area, and had decided to enter the small ball event to stay sharp for his upcoming candlepin season. Ironically, it was Whitcomb who experienced 'deja vu' when facing Deantoniis. Earlier when Bob had seen John bowling, he had commented to one of his traveling candlepin friends, and they both agreed that Deantoniis looked to be a carbon copy of a fellow candlepinner by the name of Dave Hodge.
With John climbing the ladder, something had to give. In a match of great interest, it was Deantoniis using the momentum of his prior 2 wins to keep himself in a groove, and continue his assault. Although Bob was no stranger to big matches from his Candlepin experience, he couldn't get on track in time to stay with Deantoniis, and John successfully captured his 3rd consecutive match, 149-111.
The final match was now at hand, with the hot Deantoniis to face the bowler with the highest pinfall during Sunday's head-to-head competition. In one of the most closely contested, well-bowled championship matches in history, the game was never more than 10 pins in either bowler's favor at any time during the match. At the match's climax, Callahan finished first, posting a strong score of 162. Deantoniis had a score of 122 in the 8th frame, and a spare up in the foundation 9th. John had to have a strike on his first ball in the 10th to have a chance at tieing or winning the match. Deantoniis proceeded to blister the headpin, but only broke a solid 9 count. John converted the spare and counted 8, but it wasn't enough as he fell 3 pins short, leaving Mark Callahan the victor, claiming his first DPBA tour win.
For Callahan, the 3rd time was the charm, as this was his third appearance as top seed on the ladder in his 15-year pro tour career. When asked afterward if he did anything differently than on the past 2 occasions as 'Number One Seed', Mark stated that he did in fact constantly stay limbered up, rolling a few balls on the practice pair of lanes throughout the course of all the matches in the stepladder finals. There's no substitute for 'Experience'.
Go Back or Close Window

(To execute a 'BACK' command after clicking on a photo to enlarge, right-click on a white area on the screen that follows, and then select 'Back' from the menu that will appear)
If you like this article, give us a quick click on the 'Google +1', 'Facebook Like', and/or 'Twitter Follow' below